A little over a year ago I read an amazing story full of magic, elements of old New York, and characters that captivated me. The Last Magician was (and still is!) a novel that I couldn't stop reading until I had turned the final page (or in my case, tapped my kindle screen for the last time). I practically screamed with frustration at the realization that I would have to wait for months until the sequel.
Now a year has passed and I'm taking part in promoting this book's sequel: The Devil's Thief. I LOVE the title and the cover reveal!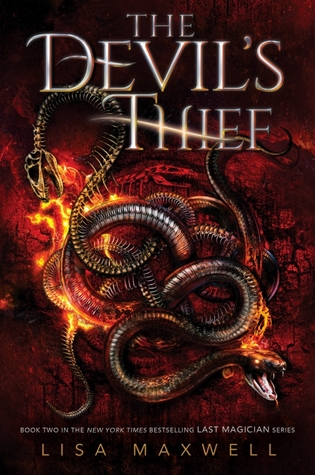 I'm so excited that this novel is coming closer to my eager hands and eyes. I can't wait to read it! 
To count down the days, I'm participating in a contest to promote this book. It means I get to talk about this book more, which is okay by me.
Here's a snippet of my review, which can be found here if you're curious what the first novel is about and why I couldn't get enough of it!
The Lost Magician starts with a connection, though they don't know it yet. Esta is a thief who uses her old magic to manipulate time, slowing it down and even jumping to the past and present. Dolph is the leader of a gang of Mageus who use their powers to protect those who cannot. And Harte is trying to blend in as a Sundren magician, hiding his Mageus powers in plain sight in a time when having old magic marked you as a target for the Order of Ortus Aurea in their climb to power. Their stories are connected by the Ars Arcana–a book that was thought to be lost. A book that is said to hold the secret to magic itself. A book that they all want.
If you're interested in learning more about The Devil's Thief, check out www.thelastmagician.com. If you've read the first book, take a quiz to see how much you remember of The Last Magican! Or find out if you're Mageus and where you'd fit into Esta's world.