Anything worth doing always starts as a bad idea.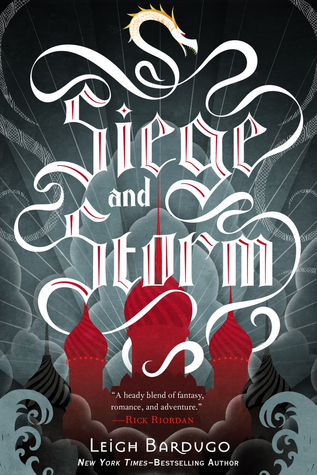 I came off of reading Shadow and Bone, the first novel, feeling decidedly unimpressed. It was a good novel; I enjoyed reading it, but it wasn't quite something I was raving about despite the impressive amount of love there is for it. Siege and Storm is so much better. I think it helps that the novel is longer. Bardugo is able to explore her world a bit more, showing readers the corners that hadn't yet been introduced fully.
After defeating the Darkling on the Fold, Alina has been running and hiding. She and Mal have been trying to make a life for themselves in a strange land, but as the days pass, it becomes more and more difficult for Alina to hide who she is. When she discovers that the Darkling survived against impossible odds and is now more powerful than ever, Alina realizes that she's going to have to face her past and confront the Darkling and his allies.
Alina came into her power in the first book, which meant that she finally is a character I like in this second book. I found her pretty annoying in the first book, a standard heroine that whines about her powers (or lack of) while doing little to advance herself. Obviously that had changed toward the end of the novel, but I still wasn't sure of her and the Grisha series. Now I'm pretty eager to finish the series.
 I am a soldier. I am the Sun Summoner. And I'm the only chance you have. 
One of the best things about Siege and Storm was how much Alina struggled. She had been told by the Darkling that Mal, an otkazat'sya–someone without powers–would never understand her and her power. As much as she tried to ignore his words, they stuck with her, barbs that keep pricking at her heart even as she gets closer to Mal. The resulting inner conflict that Alina goes through makes her a much better character. I felt far more invested in her this time around because I wanted to see how she would overcome–or succumb to–this inner darkness that seems to have been planted in her by the Darkling. As the book progresses, Alina realizes that she maybe can't blame the Darkling for all of the negative thoughts, greed, and thirst for more that has grown in her. I loved that. I loved that she owned up to her feelings instead of blaming someone else for it. She has all of these pressures on her that are personal and political, and sometimes they become too much for her.